Cheese-cooler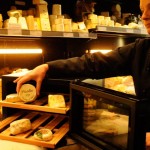 Off course your are able to store cheese in your refrigerator however your will have the risk that the cheese will be too cold, too hard or even too dry.
If you place your cheese outside the "kitchen refrigerator", the cheese will not have the prefect temperature and you are able to ignore the smell!
This cabinet is provided with one temperature zone which can be set with a range between 08- 18° C.
The cabinet works on 220Volt and the door (double glass) is provide with a "mirror coating" (phase II) which give the cabinet a luxurious appearance and so the sun will not have any effect on the cheese.
Their is enough capacity to store a lot of cheese AND you can use the two shelves to serve your cheese immediately as a cheese platter (see the pictures).
The present cheese cooler is all black and you will have the possibility to make the exterior of the cabinet as per your wish.You can upholster the exterior with leather or with cow-skin (all made by hand in Utrecht, The Netherlands) so this cabinet can fit perfectly into your house.
Leather material, colors, knots and stitching will be done as per your request in any style and any color.
Some information about temperatures for cheese :
Brined cheeses (beaufort, gruyère, feta) between 8 and 10°C
Soft-ripened cheeses (brie, camembert, humboldt fog) at 8°C
Pont l'Evêque cheeses between 8 and 12°C
Blue cheese (Roquefort, Danish Blue) between 11 and 12°C
The best temperature for all cheeses is between 9-13°C.
Specifications
| | |
| --- | --- |
| Capacity: | 25 liters |
| Number of standard shelves: | 2 |
| Option exterior covered in leather or cowskin: | Yes |
| Energy consumption (24 hours): | 0.36 kWh |
| Ambient temperature: | 0-35 °C |
| Temperature zone: | 8-18 °C |
| Outside measurements (mm): | 430x510x280 |
| Weight (kg): | 10 |
| Delivery outside The Netherlands possible: | Yes |
| Garanty: | 2 years |
Price (EUR), including VAT): € 249,95
Price is including delivery to The Netherlands, Belgium, France, Germany, etc.
Availability: Item is in stock.
Also available via our webshop.
Information request
If you are interested in our products you can contact us using the contact form or by telephone. (+31 (0) 30-2511191).