Chocolate cooler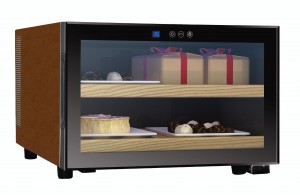 Chocolate (if it is not going to be consumed straight away) should be kept in a cool place. The optimal temperature is between 15 and 18°C.
You can of course keep chocolate in the fridge but then you need to take it out a few hours 'to warm up' before you want to eat it and make sure that no condensation collects on the chocolate.
This chocolate cooler (the name says it all) has been especially designed for chocolate and pastries and cakes; it stores chocolate at the perfect temperature and prevents it absorbing 'alien' smells.
This cooler offers a generous amount of interior space which means it is possible to use it to store boxes of chocolates and cakes for example.
The exterior has a trendy black finish with a dark tinted glass door and two wooden slide-out shelves that can be removed which increases the cooler's capacity and allows easy cleaning. The display, featuring a digital temperature indicator, is blue and touch keys make it easy to operate. The chocolate cooler is also fitted with soft blue interior lighting.
Chocolates are a girl's best friend!
Sensation variant: The exterior is entirely covered (hand-made) in Alcantara suede symbolising the three 'flavours': dark, milk or white. Colour samples are available on request!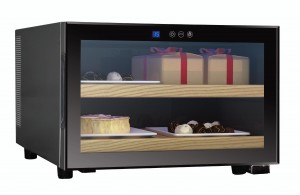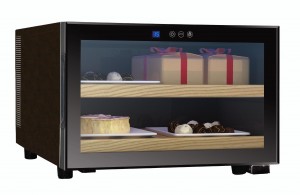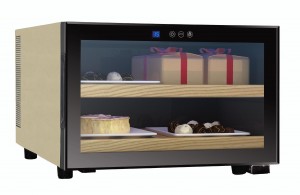 An upcoming wedding or baby shower? Offer a chocolate cooler as a gift.cadeau.
Specifications
| | |
| --- | --- |
| Capacity chocolates/cakes: | 1500 chocolates / 2 cakes Ø 30cm |
| Number of standard shelves: | 2 |
| Option exterior covered in Alcantara suede: | Yes, 3 flavours (dark, milk and white) |
| Energy consumption (24 hours): | 0.36 kWh |
| Ambient temperature: | 0-35 °C |
| Temperature zone: | 8-18 °C |
| Outside measurements (mm): | 430x510x280 |
| Weight (kg): | 10 |
| Delivery outside The Netherlands possible: | Yes |
| Garanty: | 2 years |
Price (EUR), including VAT): € 249,95
Prijs is including delivery to The Netherlands, Belgium, France,Germany, etc.
Availability: item is in stock.
Also available in our webshop.
Information request
If you are interested in our products you can contact us using the contact form or by telephone. (+31 (0) 30-2511191).